Shakira Songs
If you love Shakira songs, you will enjoy this list of her most popular tunes.
This Colombian superstar has entertained audiences worldwide with her unique voice, original lyrics and hip moves. Having sold more than 50 million albums worldwide, Shakira is not only one of the most popular singers of all time but she's also one of the most talented and prolific songwriters of all time.
After reaching success in Latin America, she successfully crossed over to the English-speaking market – a feat that very few Latin artists have accomplished.


---
Songs by Shakira
These are Shakira's highest ranking songs according to Billboard Hot 100. You will find the position each song reached in parentheses.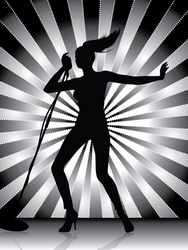 Hips Don't Lie featuring Wyclef Jean (# 1) – This popular song was released in 2006 as the second single from Oral Fixation Vol. 2, Shakira's second English album. It quickly became a number one hit in the United States and the UK. The song also became an international hit, reaching the number one position in over 50 countries. It remains Shakira's most popular single to date. Interestingly, Hips Don't Lie is a remake of Wyclef Jean's Dance Like This, which appeared on the soundtrack to Dirty Dancing: Havana.
Beautiful Liar with Beyonce (# 3) – Released in 2007 , this song was also recorded in Spanish with the title Bello Embustero.
Whenever, Wherever (# 6) – This popular Shakira song was released in 2001. It was the first single from Laundry Service, Shakira's first Enlgish album. It was also recorded in Spanish with the title Suerte (Luck). This catchy tune is Shakira's second most successful single.
Underneath Your Clothes - (# 9) – 2002 – Both a power ballad and a love song, Underneath Your Clothes describes a woman's undying love for her lover. This was the second single released from the Laundry Service album (released in 2001). This song is Shakira's third most successful single worldwide.
She Wolf - (# 13) -2009 – Released as Loba in Spanish, this single preceded the album by the same name. By the way, the album She Wolf shows another side of Shakira. This work is more focused on electropop and dance as opposed to her usual pop rock with Latin influences.
---
Other Popular Shakira Songs (in no particular order)
Ciega, Sordomuda remains one of Shakira's most popular songs and one of my favorite Spanish songs. This song was the first single from her 1998 multi-platinum album Dónde Están los Ladrones?
Estoy Aquí - This song was Shakira's first successful international single. Written by Shakira and Luis F. Ochoa, this song was released as the second single from the 1996 album Pies Descalzos. This album is considered as one of Shakira's most important works.
La Tortura, performed by Shakira and Spanish singer Alejandro Sanz, was released in 2005 and it quickly became one of the most popular songs for both artists. This song (whose Spanish title means The Torture) is part of Shakira's sixth studio album titled Fijación Oral Vol. 1. The video of La Tortura showcases Shakira's sultry, ever-popular belly dancing moves.
Loca (Crazy) - This popular Shakira song was released as the lead single from her third bilingual album Sale el Sol, which is also the singer's seventh studio album. Even though this song had moderate success in the United States, it became a hit in many Latin American and European countries.
Objection (Tango) was Shakira's first song written entirely in English. Its Spanish version is titled Te Aviso, Te Anuncio (Tango). The song starts out as a tango and it evolves into a Latin rock tune.
Waka, Waka (This Time for Africa) was the official song for the 2010 FIFA World Cup. It was released as a digital download on May 11, 2010. It was later included in Listen Up! The Official 2010 FIFA World Cup Album. There is also a Spanish version titled Waka, Waka (Esto es África).
Photo Image: © Illustrart | Dreamstime.com


---
Explore more…
More Shakira Tunes - Lyrics information and videos of some of Shakira's most popular songs.
Shakira Videos - Videos showcasing this popular Colombian singer.
Spanish Songs - A list of past and present popular Spanish songs.
What Is My Favorite Spanish Song? - These are a few of my favorite songs in Spanish.
Las Mañanitas - Fun information about this Mexican birthday song.
---
Leave Shakira Songs and return to the Home Page of Explore Hispanic Culture